The Mid-Autumn Festival has divided Beijing's Paralympic Village into two camps: those who celebrate it (Northeast Asia) and those who don't (the rest of the world).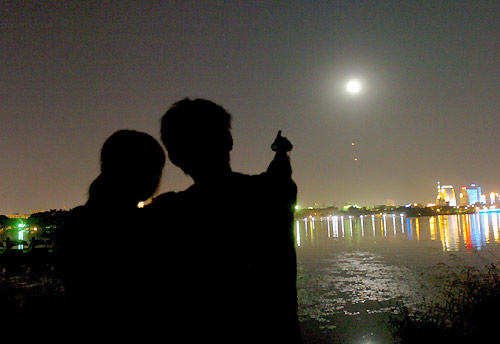 A couple gaze the full moon in the sky on the night of September 14, 2008, China's Mid-Autumn Festival. [Xinhua]

And as Sally Wager, a Great Britain basketball player, said, it is all because of unfamiliarity. "We know nothing about it," she said.

"It's a bit disappointing actually because I'd love to find out more about it. They should put up posters or something."

Some athletes from Europe, less familiar with the festival, suggested the village could have promoted it better and instilled more of a party atmosphere.

For some Chinese participants, however, the day served as a reminder of family, creating feelings of homesickness but firing them up at the same time.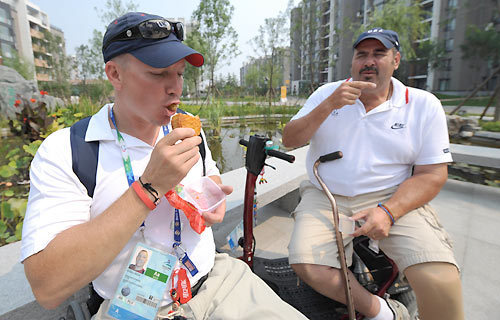 A Paralympian eats a Chinese mooncake in the Paralympic Village, September 14, 2008. Paralympic athletes in Beijing got a taste of China's Mid-Autumn Festival, which falls on September 14 this year. [Xinhua]

"We're living in the village so obviously we cannot see our families, but today it's extra hard," swimmer Huang Yu said. "This is the ninth year in a row I haven't been able to be with my family on this day," said the 25-year-old Yunnan resident, whose left arm has been amputated below the elbow.

As she walked through the village, psyching herself up for the night's 50m S7 final, Huang said the symbolism of the day, which relates to good fortune and a bumper harvest, could give her just the edge she needs. "Because today is a special day, it gives me more motivation to win."

Fellow Yunnan swimmer Wang Qian, 21, was more excited about seeing the sky glow white. "I'm planning to go and cheer my teammates on and give them some support."

The Republic of Korea (ROK) and Hong Kong teams, unlike their Western counterparts, needed no introduction to the festival. They threw parties at either end of the day on the front lawn outside their (opposing) apartment blocks.

But for many participants far from home, the food on offer in the athletes' canteen was the closest they could get to the spirit of this ancient Chinese festival.

"Everyone's aware of it because they've got the moon cakes in the mess hall, but there was a bit of to-ing and fro-ing about whether they're good or not," a spokesman for the Australian Paralympic Committee said yesterday.

"Normally it doesn't take much of an excuse for Australians to have a celebration (but) we aren't terribly au fait with this ceremony," he said.

The same cannot be said of the ROK that holds its own variant of the day, known as Thanksgiving in the US or Harvest Festival in the UK, on the 15th day of the eighth lunar month - but calls it Chuseok.

Lee Myeong-ho, director of ROK elite sports, invited most of his delegation and ROK broadcasters KBS and SBS to enjoy and film their outdoor feast at 10 am yesterday. Instead of moon cakes - sweet and salty pastry cakes filled with meat, fruits or vegetables - they prefer songpyon (rice cake), noodles and "Korean pizza".

The evening performances were tailored around the festival. Celebratory drums launched the festivities at 8 pm, with local disabled star Li Chen making a guest appearance.


Editor: canton fair