BEIJING - Rail fans and passengers queued up on Thursday morning to buy tickets for Friday's debut of the world's fastest intercity rail line linking Beijing with Olympic co-host city Tianjin.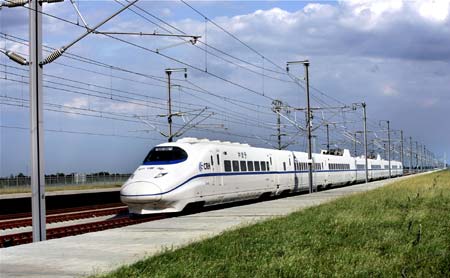 A CRH-3 train is seen at the Yongle Station of the Beijing-Tianjin railway. [Xinhua/File photo]

Tickets were available at the Beijing Railway Station, the Beijing West Railway Station and other ticket outlets. But at the Beijing South Railway Station, where the first train would leave from, ticket sales were expected to start later on Thursday, station staff told Xinhua.

The Ministry of Railways (MOR) announced on Wednesday this ultra-modern line would go into service on August 1, one week before the Games begin.

The first train would leave the Beijing South Railway Station at about 11 a.m. after an official launch ceremony, the Beijing Times reported.

After regular service begins on August 2, the first train would leave Beijing for Tianjin at 6:15 a.m., according to a time schedule provided by the Beijing South Railway Station. Twenty minutes later, another train would leave the Tianjin Station for Beijing.

The final train would leave Beijing for Tianjin at 10:10 p.m. while in Tianjin, the final train would depart at 10:06.

During regular services, there would be 47 pairs of trains every day. Trains bound for Tianjin would leave at various intervals of 15, 20 and 30 minutes.

A first-class ticket costs 69 yuan while the price for a second-class ticket is 58 yuan, Vice Railway Minister Wang Zhiguo told a press conference. Fares would be unchanged in the first year of operation.

The line would be the world's only line on which passenger trains could run at 350 km per hour, Wang said. It would also be the first high-speed intercity rail line in China.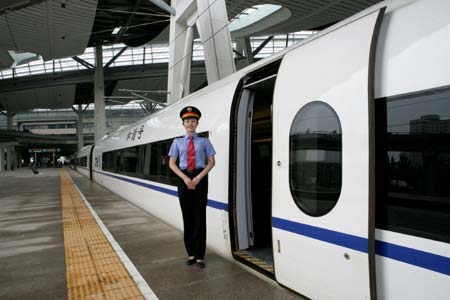 A train attendant stands next to the Chinese-made high-speed CRH3 train, July 18, 2008. [Xinhua]

The railway, on which construction started in July 2005, was built at a total cost of 21.5 billion yuan (US.1 billion), said Wang.

About 100 km of the line, or 86 percent, was built on an elevated alignment because of the area's alluvial soil, which was sensitive to ground settlement.

The new service would cut the 120-km journey from the current 70 minutes to about 30 minutes, according to Wang. There are five stations along the line: the cavernous new Beijing South Railway Station, Yizhuang, Yongle, Wuqing and Tianjin.

The train is classifed by the MOR as C-category, with C standing for Chengji, meaning intercity.

There will be 10 trains of eight cars that can seat about 600 passengers. These sleek trains, with aircraft-like cabins, swivel seats, spacious interiors and rooftop solar panels, were built by the Sifang Locomotive and Rolling Stock Company.

Called the CRH-3 (China Railway High-speed), these were China's first self-designed and self-manufactured passenger trains.

The MOR had said about 26 million passengers traveled between the two cities every year, and this new line was forecast to raise the figure to 32 million in 2008.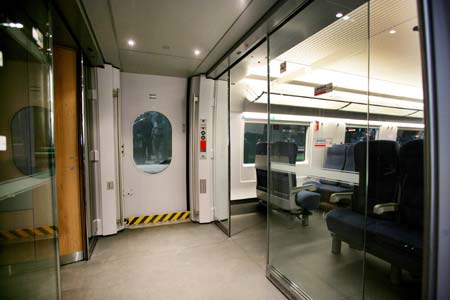 The interior of new CRH-3 train [Xinhua]

Wang said more trains would be put into service in the future as the signal system allowed trains at minimum intervals of three minutes.

At least three kinds of trains already run between the two cities.

D-category trains run at 200 to 250 km per hour and take 70 minutes. Passengers pay 51 yuan for a first-class seat and 42 yuan for a second-class seat.

K-category trains run slower and take 100 minutes. The maximum fare is 20 yuan.

A third category runs only during major holidays, such as the Lunar New Year, and supplements regular services.

Editor: canton fair